5 Reasons Interior Designers Should Outsource CAD drawings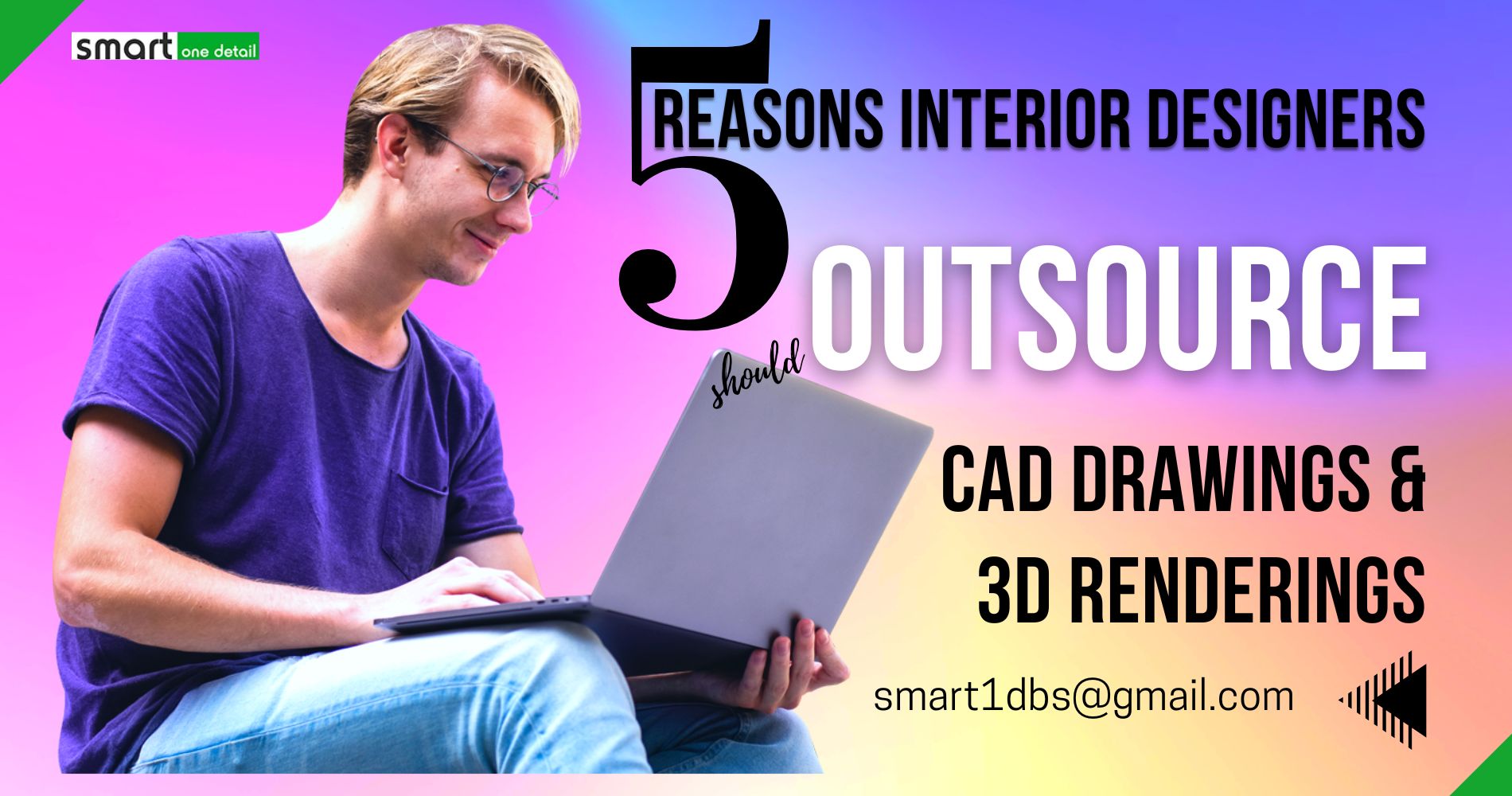 5 Reasons Interior Designers Should Outsource CAD Drawings and 3D Renderings
Interior designers face many challenges when it comes to creating successful and attractive designs. Drawing up plans and renderings can be a time-consuming process and can require a great amount of skill and attention to detail.
Outsourcing CAD drawings and 3D renderings can help interior designers streamline this process, saving them both time and energy. With the help of experienced professionals, interior designers can access more accurate and creative designs while freeing up their time to focus on other aspects of the project. Moreover, outsourcing can provide access to the latest software, tools, and techniques, allowing interior designers to stay up-to-date with the latest industry trends.
In addition, outsourcing CAD drawings and 3D renderings can help interior designers save money, as they can access high-quality services at a fraction of the cost.
Following are the reasion why an interior deisgner should outsource cad drawings and 3d renderings works:
1. Cost Savings: Hiring a professional CAD designer and 3D renderer can save money in the long run. Outsourcing these tasks can save you the cost of hiring and training in-house personnel, as well as the cost of acquiring the necessary software and hardware.
2. Time Savings: Outsourcing CAD drawings and 3D renderings can help you meet deadlines faster, as the professionals who do this work are experienced and can complete the job in less time than you.
3. Quality: Professional CAD designers and 3D renderers have the skills and knowledge needed to produce quality results. This ensures that your projects look professional and are accurate and detailed.
4. Access to the Latest Technology: Outsourcing CAD drawings and 3D renderings means that you can benefit from the latest technology and tools. This can help you create better projects and stay ahead of the competition.
5. Focus on the Core Business: By outsourcing CAD drawings and 3D renderings, you can focus on what you do best: design. This allows you to focus on the creative aspects of your job and leave the technical aspects to the professionals.
We smart one detail experienced and reliable partner serving more than 10 countries and adding value to many interior designers.
Visit our website or send me an email [email protected]
#california
#californiamom
#californiainteriordesign
#californiahomes
#californiarealtor
#texas
#texasinteriordesigner
#texasmom
#texaswomen
#texashomes
#texasrealtor
#newyork
#newyorkcity
#newyorkinteriors
#smartonedetail
#smartdesigner
#newyorkdesigner